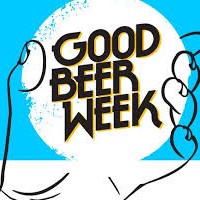 Good Beer Week – May 13th-22nd 2016
Our favourite time of the year is back for the sixth year running!!! And we've upt the ante this year – with 4 awesome events across the week, check out below and get in early. These events will sell out!
Releasing the Beast
Sat 14th May 6pm
Blackman's Brewery, 26 Bell Street, Torquay
A USA themed 4-course beer and food pairing night to celebrate the launch of Blackman's limited release Double IPA – 'Angry Reg'. We will also host an American all-star guest beer line-up including Stone & Sixpoint Breweries.
Tickets $75 https://goodbeerweek.com.au/events/view/454/Releasing-the-Beast
Blackman's Wild Cards
Sun 15th May 4pm-9pm
Blackman's Brewery Bar, 71 Little Malop street, Geelong
Blackman's Brewery will release four one-off single keg brews at the new Geelong bar. You'll get a pot of each, paired with four courses of tapas, plus brewer Renn will be on hand for a bit of beer education.
Tickets $45 https://goodbeerweek.com.au/events/view/456/Blackman-s-Wild-Cards
Victoria Vs The World
Tues 17th May 7pm
Terminus Hotel, 492 Queens Pde, Fitzroy North
We are stoked to be part of this exciting showdown! Victoria is taking on the rest of the world in a Beer Smackdown. Representatives from some of the world's best breweries Stone, Sixpoint, Tuatara and Birra Del Borgo, will go head to head against Victorian locals Moon Dog, Boatrocker, Dainton and Blackmans in rounds of tasting their most weird and wonderful beers. You pick the winner!
Tickets $69 https://goodbeerweek.com.au/events/view/462/Vic-vs-The-World-Showdown
Pint of Origin – Geelong and South West
All week
The Max Hotel Geelong, 2 Gheringhap street, Geelong
The Pint of Origin concept is going regional! For GBW 2016, The Max Hotel in Geelong is giving all of its taps (and a chunk of its fridges) over to craft beer from Geelong and the South West.
With rapid growth in the number of breweries both in Geelong and as far west as Barongarook there's never been a more exciting time to come and check it all out in one location.
We'll be kicking things off on Saturday the 14th with 'Meet the Brewers'. The kitchen will be cranking out delicious beer food all day and there'll be brewers everywhere who love nothing more than talking about beer, over a few beers…
FREE EVENT