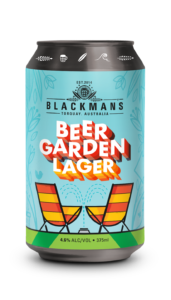 THIS CAN OF BEER GARDEN LAGER WILL TRANSFORM YOUR OWN BACKYARD INTO A BEER GARDEN WITH THE VERY FIRST SIP.
IT'S BRIGHT, AROMATIC AND EXTREMELY CRISP.
YOU'LL MEET A VERY REFRESHING AMOUNT OF HOPS FIRST UP, FEATURING A HOP COMBO OF LORAL, STRATA AND MOTUEKA, ENDING WITH A VERY SMOOTH FINISH.

STATS:
ABV: 4.6%
STANDARD DRINKS: 1.4