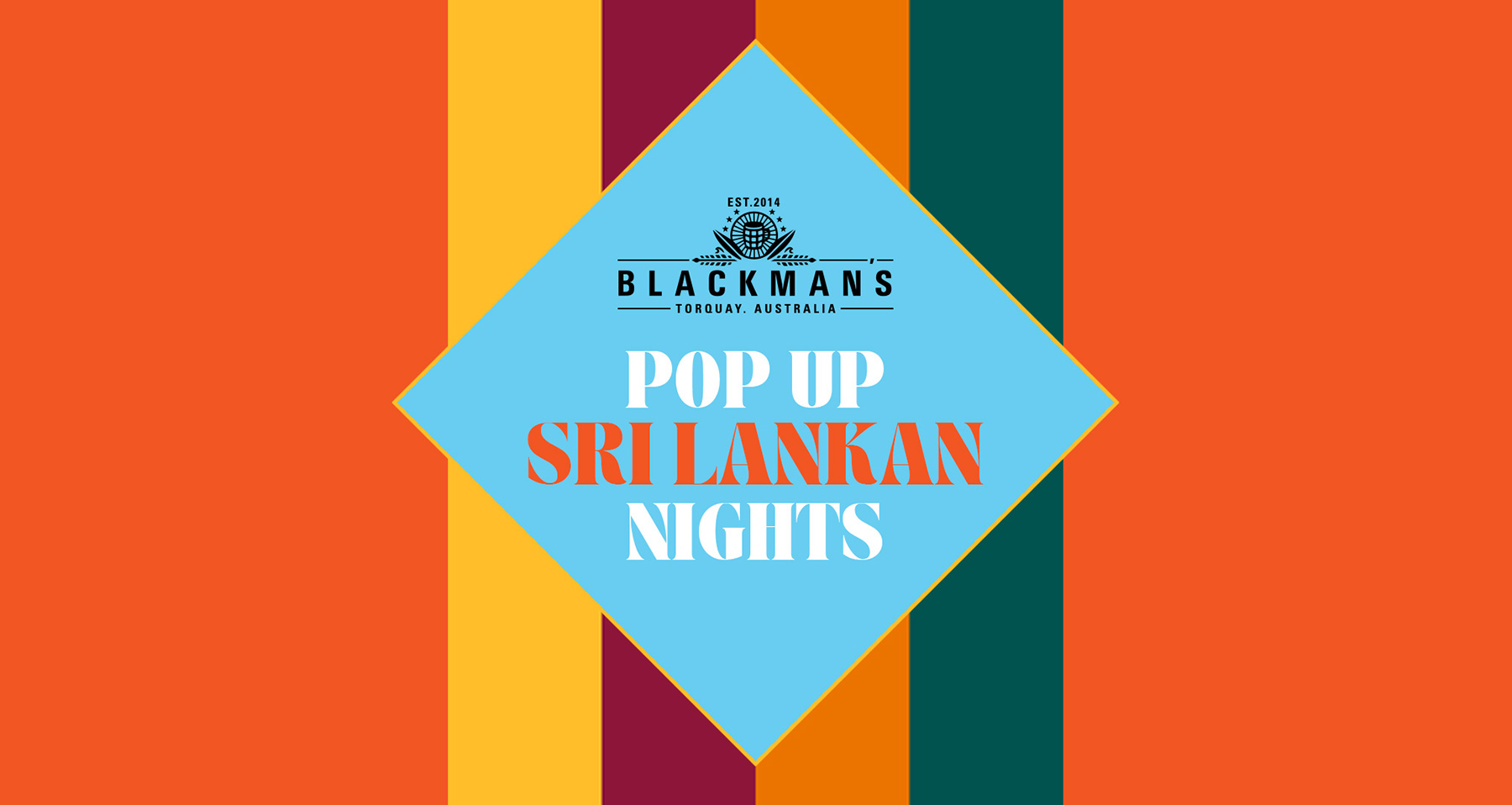 Sri Lankan Pop Up Nights are coming to Thursday's at Blackman's, Torquay!!!
3 Courses of authentic Sri Lankan
Beer Pairings if you like
Come down to Blackman's and experience something new…
Our epic Chef is popping up on Thursday's in July to cook authentic Sri Lankan Cuisine and we absolutely CAN'T WAIT!!!
Bookings are essential, so get your crew together and lock.it.in!!!!
Please check out the menu which outlines dietary options for each Thursday night, and please let us know prior for any of your requirements.
Set Menu $35 per person
$50 with paired beers
Or you can order single dishes.
July 28th Menu
Entree
Tempered Tapioca with Jaffna prawn curry – $14
SAUTEED ONIONS, CHICKPEAS, RED CHILLIES, MUSTARD SEEDS
AND CURRY LEAVES
VEGETARIAN, VEGAN, GLUTEN FREE AND DAIRY FREE OPTION AVAILABLE
BEER PAIRING: BARREL FARM SOUR
Main
Steamed rice with spicy lamb stew – $18
SERVED WITH RED LENTIL CURRY, CUCUMBER SALAD,
BEETROOT CURRY AND PAPPADUMS
VEGETARIAN, VEGAN, GLUTEN FREE AND DAIRY FREE OPTION AVAILABLE
BEER PAIRING: MERVYN PALE ALE
Dessert
Pani Walalu (Fried Ulundu Dessert) – $12
FERMENTED ULUNDU, PLAIN FLOUR, SALT, JAGGERY SYRUP,
CINNAMON POWDER WITH VANILLA ICE CREAM
VEGETARIAN, VEGAN, AND DAIRY FREE OPTION AVAILABLE
BEER PAIRING: NITRO STOUT
Extra Stuff
PAPPADUMS – $5
CHIPS – $10
Kids – $13
NUGGETS & CHIPS
FISH & CHIPS
CHICKEN & RICE
 
To Book:
https://www.opentable.com.au/restref/client/?restref=132761&lang=en-AU&ot_source=Restaurant%20website&corrid=c9c35566-f490-4e1a-9994-653042a5791b
Any questions or further info send us an email or give us a buzz.
Please note our usual pizza menu won't be available on our Sri Lankan Pop Up nights.
torquay@blackmansbrewery.com.au
PH: 5261 5310